Create your own kitchen!
Choose the kitchen cabinets* that you'd like to have in your kitchen.
Then pick a worktop and specify in which order you would like the cabinets.
Would you like to know the dimensions of the kitchen you created? Don't hesitate to ask me in the comments or with an email.
Do you have questions or specific wishes? Send us a message!
*Look closely at the dimensions of the cabinets before you order.
1:16 might possibly be a better match for the dolls that are used in dollhouses!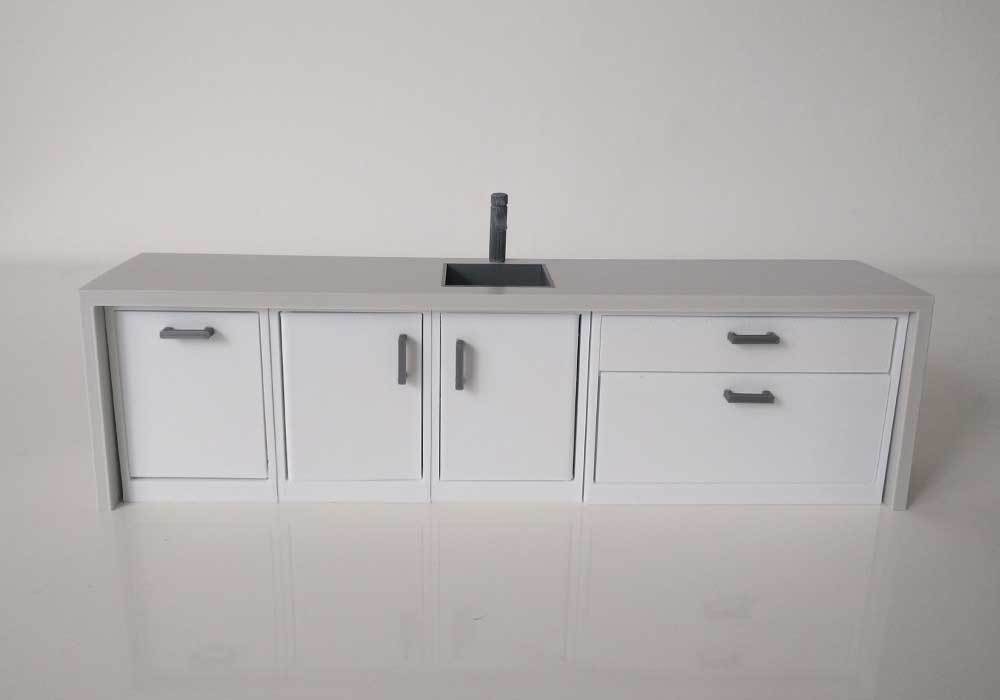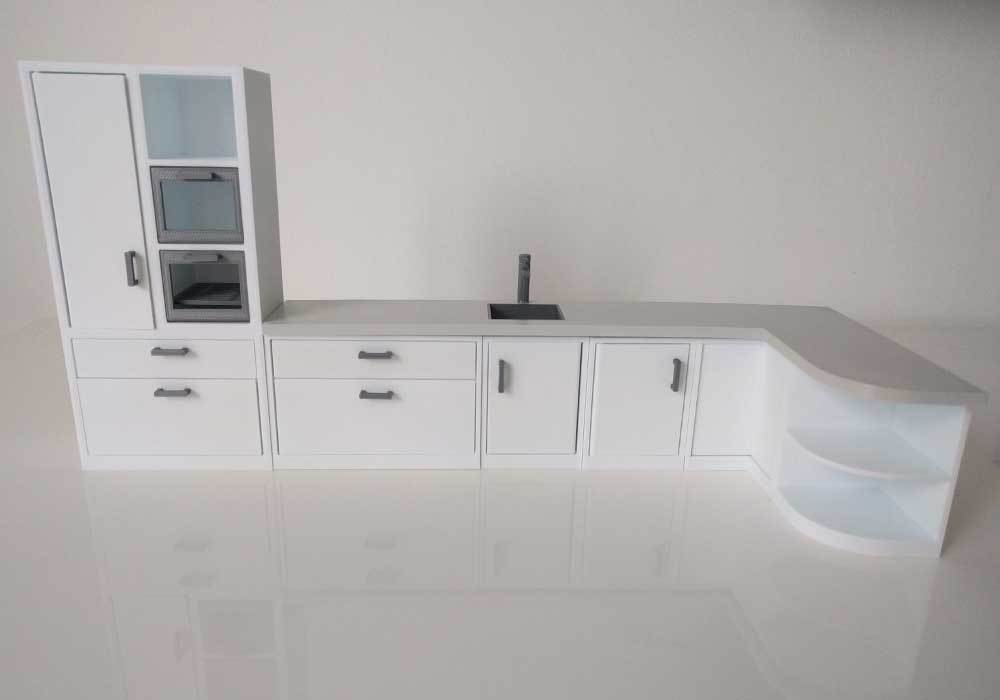 Example of a straight kitchen Example of a corner kitchen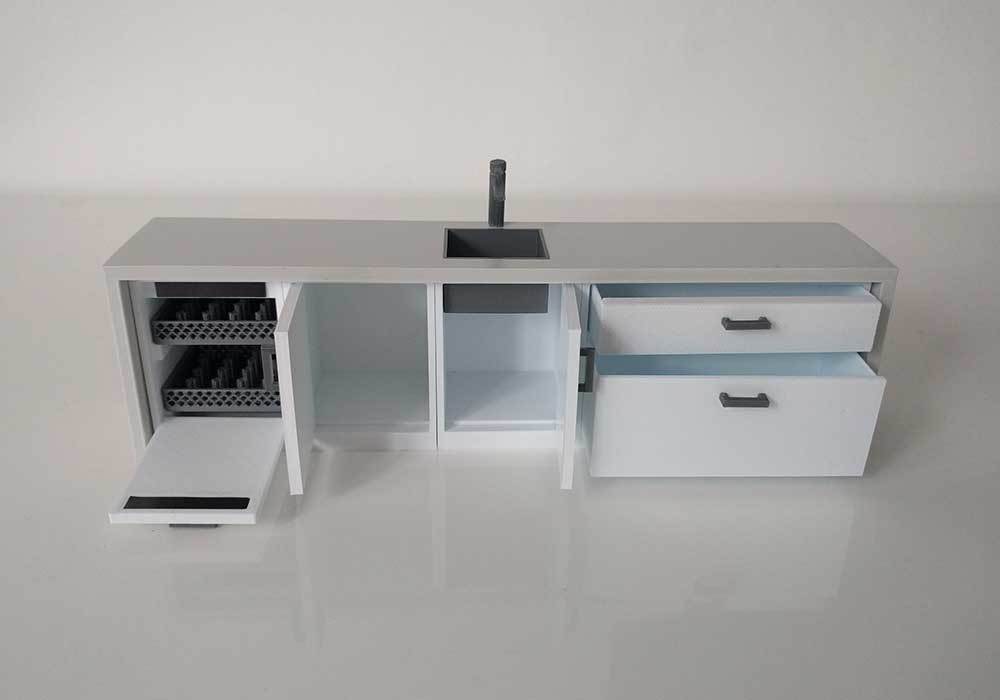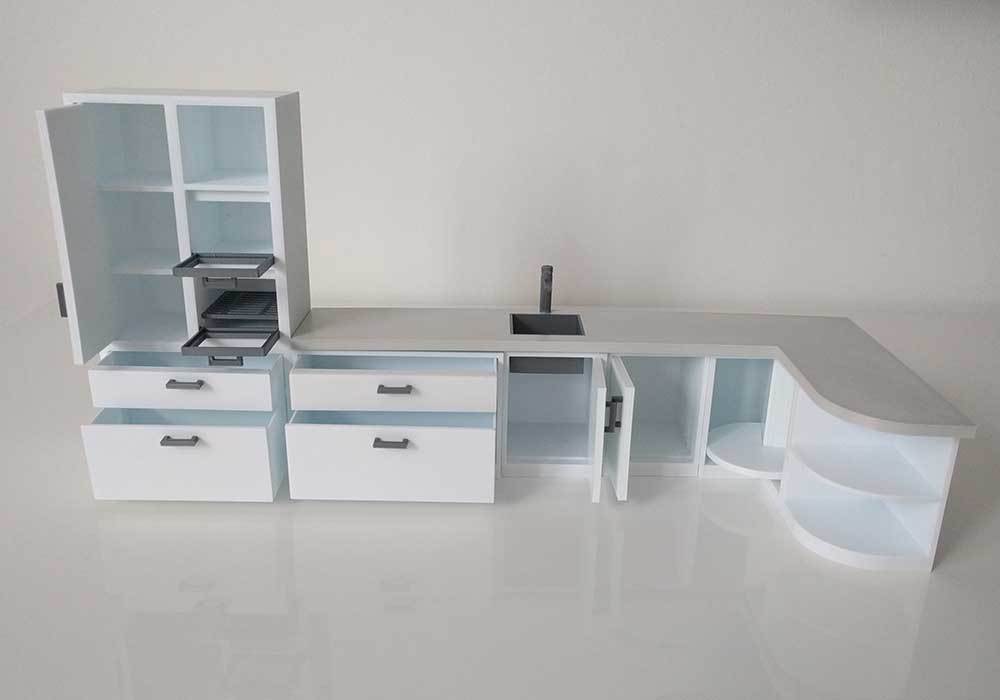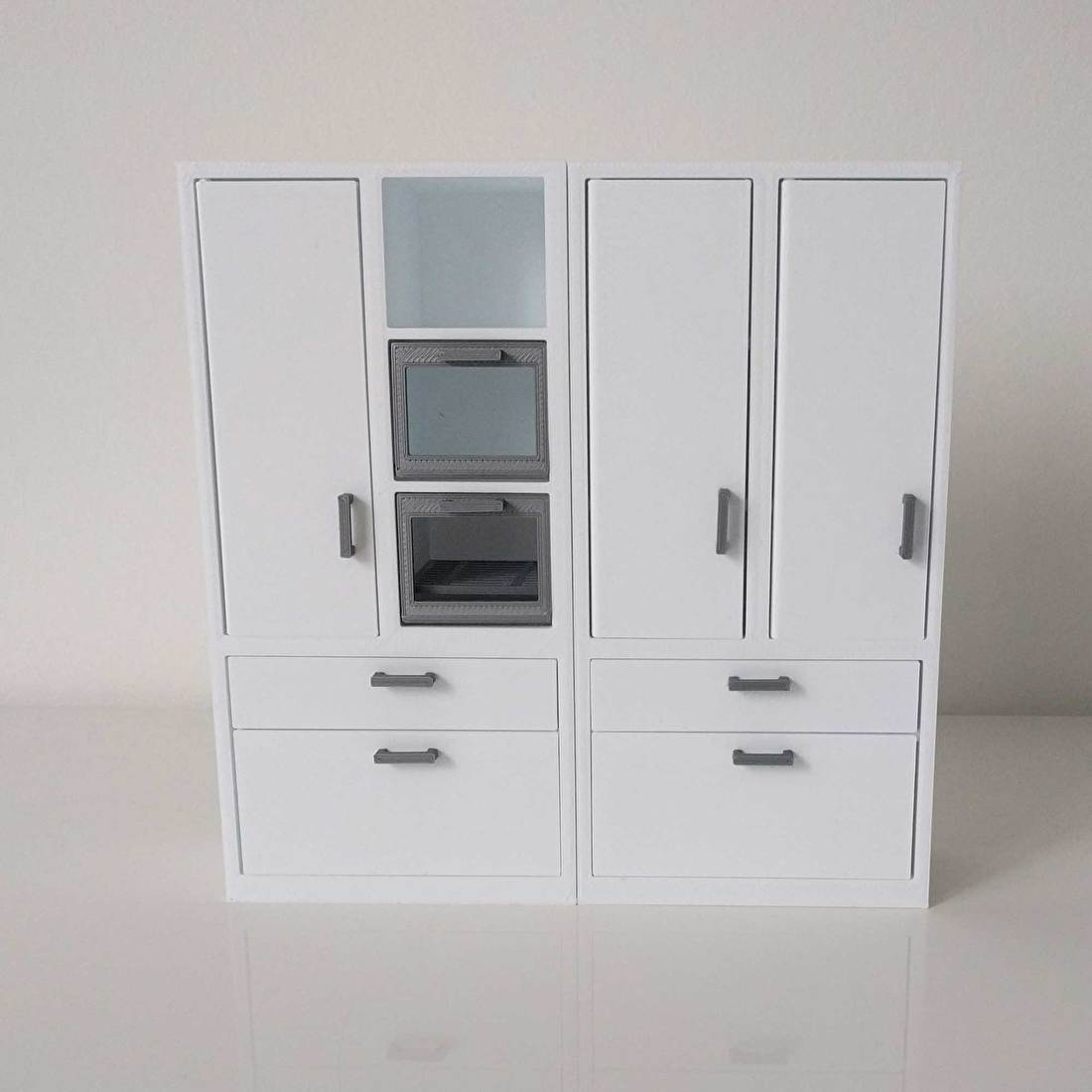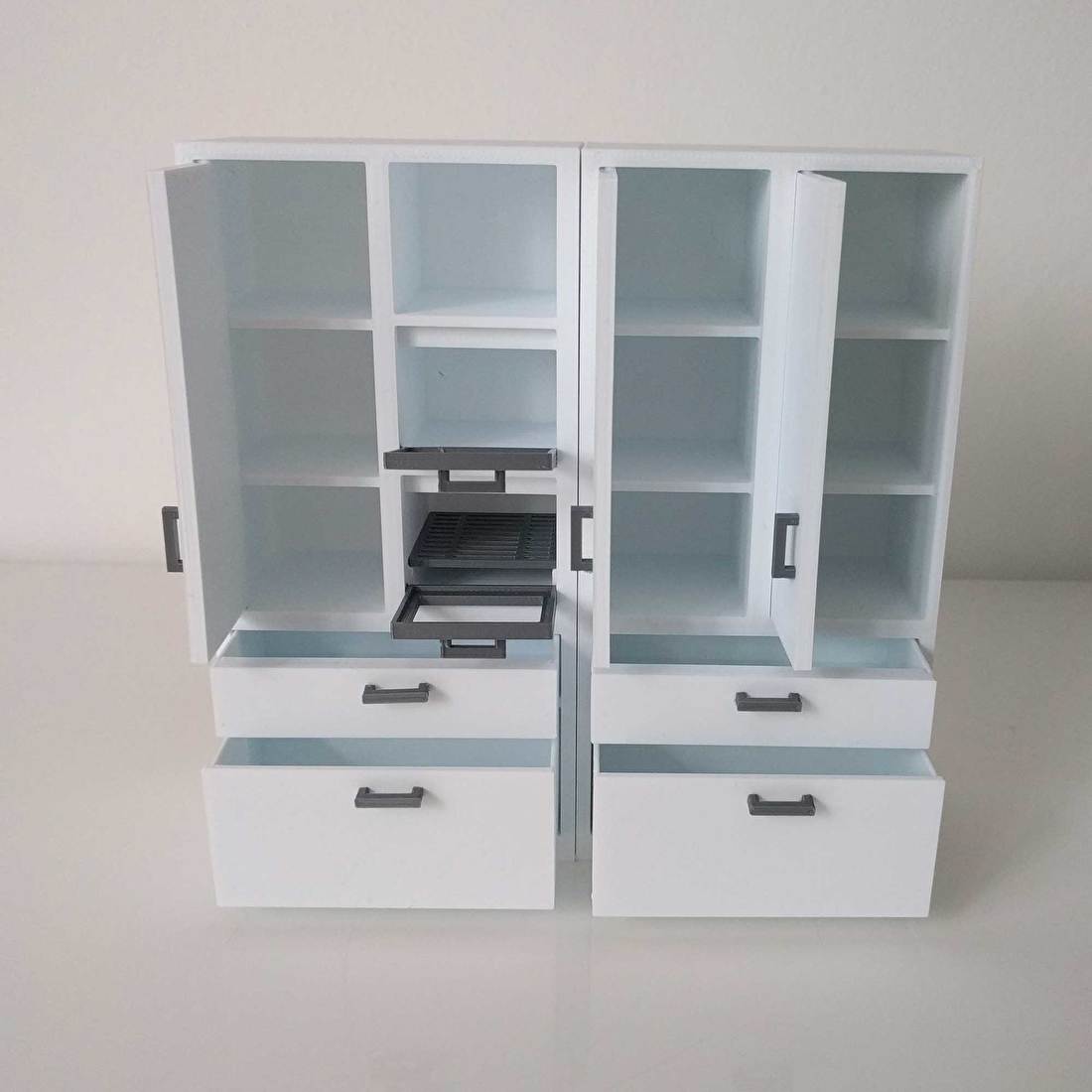 Example of tall cabinets
Kitchen island

This kitchen island can also be used as a bar and fits well with our barstools.

There are two models:
Model 1 has the hob on the left (the photos show the hob on the left)
Model 2 has the hob on the rightColour 1 is the colour of…

€ 11,00

Water island

This water island can also be used as a bar and fits well with our barstools. You can choose which side the sink and tap should be on.

There are two models:
Model 1 has the sink and tap on the left (the photos show the sink and…

€ 12,00

Cooker

Cooker with hob and oven.

Colour 1 is the colour of the oven
Colour 2 is the colour of the door
Colour 3 is the colour of the door handle
Colour 4 is the colour of the knobs
Colour 5 is the colour of the rack
Colour 6 is the…

€ 11,00

Dishwasher

This dishwasher has two racks for plates and cups.

There are two models:
Model 1 has a flat panel door (as shown in photo 1)
Model 2 has a Shaker-style door (as shown in photo 2)Colour 1 is the colour of the dishwasher
Colour 2…

€ 9,00

Cabinet with hinge on the left

This cabinet has a hinge on the left side.

There are two models:
Model 1 has a flat panel door (as shown in photo 1)
Model 2 has a Shaker-style door (as shown in photo 2)Colour 1 is the colour of the cabinet
Colour 2 is the…

€ 5,00

Cabinet with hinge on the right

This cabinet has a hinge on the right side.

There are two models:
Model 1 has a flat panel door (as shown in photo 1)
Model 2 has a Shaker-style door (as shown in photo 2)Colour 1 is the colour of the cabinet
Colour 2 is the…

€ 5,00

Cabinet with sink and tap and hinge on the left

This cabinet comes with a sink and a tap.

There are two models:
Model 1 has a flat panel door (as shown in photo 1)
Model 2 has a Shaker-style door (as shown in photo 2)There are two options
Option 1 is with a curved tap
Option 2…

€ 6,00

Cabinet with sink and tap and hinge on the right

This cabinet comes with a sink and a tap.

There are two models:
Model 1 has a flat panel door (as shown in photo 1)
Model 2 has a Shaker-style door (as shown in photo 2)There are two options
Option 1 is with a curved tap
Option 2…

€ 6,00

Corner cabinet with lazy Susan

Save space with this corner cabinet with a lazy Susan.

There are two models:
Model 1 has a flat panel door (as shown in photo 1)
Model 2 has a Shaker-style door (as shown in photo 2)Colour 1 is the colour of the cabinet
Colour 2…

€ 6,00

Corner cabinet with rounded corner

This playful cabinet with a rounded corner fits well at the corner of your kitchen.

Please take a look at the Colours page to see all available colours.

Dimensions (L x W x H)
1:12 53.5 x 53.5 x 72 mm
1:16 40 x 40 x 54 mm

€ 2,00

Tall cabinet with microwave and oven on the left

Tall cabinet with two drawers at the bottom, a door at the top right side (which can be used as a fridge) and an oven, microwave and empty compartment at the top left side (bottom to top). Please note that the microwave and oven…

€ 15,00

Tall cabinet with microwave and oven on the right

Tall cabinet with two drawers at the bottom, a door at the top left side (which can be used as a fridge) and a microwave, oven and empty compartment at the top right side (bottom to top). Please note that the microwave and oven…

€ 15,00

Tall cabinet with hinges on the left

Tall cabinet with two drawers at the bottom and two doors at the top.

There are two models:
Model 1 has flat panel fronts (as shown in picture 1)
​Model 2 has Shaker-style fronts (as shown in picture 2)Colour 1 is the colour of…

€ 14,00

Tall cabinet with hinges on the right

Tall cabinet with two drawers at the bottom and two doors at the top.

There are two models:
Model 1 has flat panel fronts (as shown in picture 1)
​Model 2 has Shaker-style fronts (as shown in picture 2)Colour 1 is the colour of…

€ 14,00

Wide cabinet with drawers

Cabinet with two drawers.

There are two models:
Model 1 has flat panel fronts (as shown in picture 1)
​Model 2 has Shaker-style fronts (as shown in picture 2)Colour 1 is the colour of the cabinet
Colour 2 is the colour of the…

€ 8,00

Wide cabinet with drawers and sink

Cabinet with two drawers and a sink. The top drawer is not able to open (because of the sink).

There are two models:
Model 1 has flat panel fronts (as shown in picture 1)
​Model 2 has Shaker-style fronts (as shown in picture…

€ 9,00

Narrow cabinet with drawers

Narrow cabinet with two drawers.

There are two models:
Model 1 has flat panel fronts (as shown in picture 1)
​Model 2 has Shaker-style fronts (as shown in picture 2)Colour 1 is the colour of the cabinet
Colour 2 is the colour…

€ 7,00

Narrow cabinet with drawers and sink

Narrow cabinet with two drawers and a sink. The top drawer is not able to open (because of the sink).

There are two models:
Model 1 has flat panel fronts (as shown in picture 1)
​Model 2 has Shaker-style fronts (as shown in…

€ 8,00

Cabinet with basket drawers

Narrow cabinet with three basket drawers.

There are two models:
Model 1 has flat panel fronts (as shown in picture 1)
​Model 2 has Shaker-style fronts (as shown in picture 2)Colour 1 is the colour of the cabinet
Colour 2 is the…

€ 6,00

Short upper cabinet with hinge on the left

Upper cabinet with door.

There are two models:
Model 1 has a flat panel door (as shown in photo 1)
Model 2 has a Shaker-style door (as shown in photo 2)Colour 1 is the colour of the cabinet
Colour 2 is the colour of the…

€ 3,00

Short upper cabinet with hinge on the right

Upper cabinet with door.

There are two models:
Model 1 has a flat panel door (as shown in photo 1)
Model 2 has a Shaker-style door (as shown in photo 2)Colour 1 is the colour of the cabinet
Colour 2 is the colour of the…

€ 3,00

Short upper cabinet with hinge on the top

Upper cabinet with door.

There are two models:
Model 1 has a flat panel door (as shown in photo 1)
Model 2 has a Shaker-style door (as shown in photo 2)Colour 1 is the colour of the cabinet
Colour 2 is the colour of the…

€ 3,00

Tall upper cabinet with hinge on the left

Upper cabinet with door.

There are two models:
Model 1 has a flat panel door (as shown in photo 1)
Model 2 has a Shaker-style door (as shown in photo 2)Colour 1 is the colour of the cabinet
Colour 2 is the colour of the…

€ 4,00

Tall upper cabinet with hinge on the right

Upper cabinet with door.

There are two models:
Model 1 has a flat panel door (as shown in photo 1)
Model 2 has a Shaker-style door (as shown in photo 2)Colour 1 is the colour of the cabinet
Colour 2 is the colour of the…

€ 4,00

Tall upper cabinet with hinge on the top

Upper cabinet with door.

There are two models:
Model 1 has a flat panel door (as shown in photo 1)
Model 2 has a Shaker-style door (as shown in photo 2)Colour 1 is the colour of the cabinet
Colour 2 is the colour of the…

€ 4,00

Worktop

The worktop is only compatible with short cabinets and the cooker and has 5 mm of overhang at the front. Please use the Cabinet fields to indicate the order of the cabinets and a potential cooker (from left to right when standing…

Cutlery insert

Cutlery insert for the upper drawer of cabinets with drawers (with the exception of cabinets with drawers and a sink).

There are three models:
Model 1 has 4 compartments and fits in narrow cabinet with drawers
Model 2 has 4…

€ 1,00